Vermont Lottery Games
| Game | Prize Type | Numbers | Sale Closes |
| --- | --- | --- | --- |
| Pick 3 Day | Top Prize | 3 from 0-9 | 1:00 p.m. |
| Pick 3 Evening | Top Prize | 3 from 0-9 | 6:45 p.m. |
| Pick 4 Day | Top Prize | 4 from 0-9 | 1:00 p.m. |
| Pick 4 Evening | Top Prize | 4 from 0-9 | 6:45 p.m. |
| Powerball | Jackpot | 5 from 1-69 + 1 from 1-26 | 9:50 p.m. |
| Mega Millions | Jackpot | 5 from 1-70 + 1 from 1-25 | 9:50 p.m. |
| Lucky for Life | Top Prize | 5 from 1-48 + 1 from 1-18 | 9:30 p.m. |
| Tri-State Megabucks | Jackpot | 5 from 1-41 + 1 from 1-6 | 7:50 p.m. |
| Gimme 5 | Top Prize | 5 from 1-39 | 6:45 p.m. |
Vermont Lottery Game Schedule
| Game | Sunday | Monday | Tuesday | Wednesday | Thursday | Friday | Saturday |
| --- | --- | --- | --- | --- | --- | --- | --- |
| Pick 3 Day | 1:10 p.m. | 1:10 p.m. | 1:10 p.m. | 1:10 p.m. | 1:10 p.m. | 1:10 p.m. | 1:10 p.m. |
| Pick 3 Evening | 6:59 p.m. | 6:59 p.m. | 6:59 p.m. | 6:59 p.m. | 6:59 p.m. | 6:59 p.m. | 6:59 p.m. |
| Pick 4 Day | 1:10 p.m. | 1:10 p.m. | 1:10 p.m. | 1:10 p.m. | 1:10 p.m. | 1:10 p.m. | 1:10 p.m. |
| Pick 4 Evening | 6:55 p.m. | 6:55 p.m. | 6:55 p.m. | 6:55 p.m. | 6:55 p.m. | 6:55 p.m. | 6:55 p.m. |
| Powerball | | | | 10:59 p.m. | | | 10:59 p.m. |
| Mega Millions | | | 11:00 p.m. | | | 11:00 p.m. | |
| Lucky for Life | | 10:38 p.m. | | | 10:38 p.m. | | |
| Tri-State Megabucks | | | | 7:59 p.m. | | | 7:59 p.m. |
| Gimme 5 | | 7:00 p.m. | | 7:00 p.m. | | 7:00 p.m. | |
*All times are displayed in Vermont local time.
Advance Draws
The number of consecutive draws each Vermont State Lottery games allows you to play:
| Game | Advanced Draws |
| --- | --- |
| Pick 3 Day | up to 21 |
| Pick 3 Evening | up to 21 |
| Pick 4 Day | up to 21 |
| Pick 4 Evening | up to 21 |
| Powerball | up to 20 |
| Mega Millions | up to 20 |
| Lucky for Life | up to 20 |
| Tri-State Megabucks | up to 20 |
| Gimme 5 | up to 30 |
Tax Information
Vermont Lottery Federal, and state tax withholdings on winnings for U.S. citizens or residents.
| Winnings | Tax Category | Percentage |
| --- | --- | --- |
| Over $5,000 | State Tax | 6.0% |
| Over $5,000 | Federal Tax | 24.0% |
If the winner is not a U.S. citizen or is not a US resident, Vermont Lottery tax withholdings on winnings are as such:
| Winnings | Tax Category | Percentage |
| --- | --- | --- |
| Over $600 | State Tax | 6.0% |
| Over $600 | Federal Tax | 24.0% |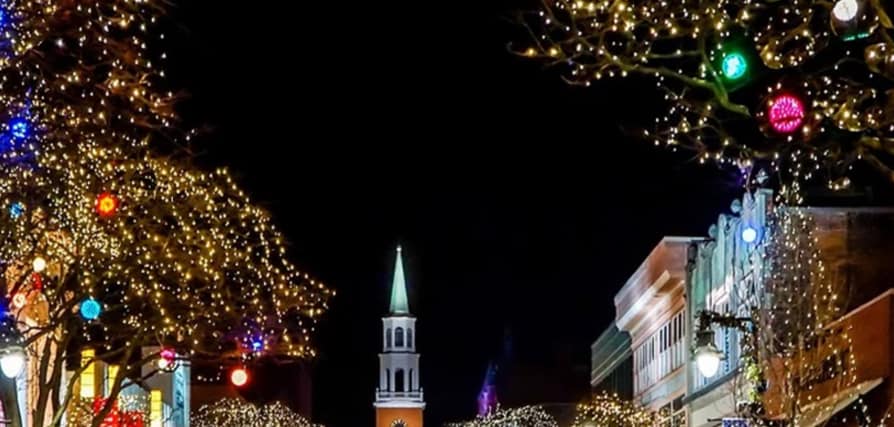 About the Vermont Lottery
Before July 1998, the proceeds from the Lottery went to the state's General Fund. From then onwards, the sole beneficiary of all Vermont State Lottery proceeds became the educational fund.
With only 21 full-time employees, the Vermont Lottery remains one of the smallest, keeping its operating expenses to a minimum. The Vermont Lottery Commission, headquartered in Berlin, VT, together with Maine and New Hampshire, forms the Tri-State Lottery.
The Lottery funds a portion of the annual education expenditure throughout the state, and the distributions during the last fiscal year included:
The Educational Fund – $29 179 325
Prizes to winners – $90 892 067
Commissions paid to vendors and retailers – $8 533 401
Although online Lottery ticket purchases are not permitted, you can participate in its second chance games through its Vermont Lottery app.
Vermont Lottery FAQ
How much time do I have to claim my Vermont Lottery winning numbers prize?
If you choose a winning combination in the Vermont Lottery numbers draw, you should claim it within 365 days from the win date.
How soon will I get my Vermont Lottery prize & where can I get it?
You can claim all prizes under $500 at any participating Vermont Lottery retail outlet, and receive your winnings the same day. To claim prizes from $500 up to $5,000, visit the Lottery Headquarters, or you may request your prize at any People's United Bank in the state, Monday through Friday.
All prizes over $5,000 must be claimed at the Vermont Lottery Headquarters, but expect up to a few weeks for processing.
Why is it important to sign my Vermont Lottery ticket?
If you lose or damage your Vermont Lottery numbers or ticket before it's signed, you may forfeit your prize winnings. The Vermont Lottery can not be held liable for lost or damaged tickets.
Are Vermont Lottery tickets available to buy over the phone, online, or by mail?
No, it's illegal. You can only buy tickets at a participating, authorized retailer.
Are Vermont Lottery winners responsible for paying taxes on prizes?
Yes. Lottery winners in Vermont will pay federal and state taxes.
How old must I be to buy Vermont Lottery tickets?
By law, you must be 18 years or over to purchase a lottery ticket. However, you may receive a lottery ticket as a gift at any age.
Which Lottery games are available in the Vermont State Lottery & when are the draws?
Vermont Lottery Mega Millions – Tues & Fri at 11 pm
Vermont Lottery Lucky for Life – Mon & Thurs at 10:38 pm
Gimme 5 – Mon & Fri at 7 pm
Vermont Lottery PowerBall – Wed & Sat at 10:59 pm
Pick 3 Daytime – Every day at 1:10 pm
Pick 3 Evening – Every day at 6:59 pm
Pick 4 Daytime – Every day at 1:10 pm
Pick 4 Evening – Every day at 6:55 pm
May I stay anonymous if I have Vermont Lottery winning numbers?
No. According to law, all winners must be identified if requested. But, if you claim your winnings via a trust, you can remain anonymous.
How many tickets can I buy for the Vermont Lottery?
The Vermont Lottery allows the purchase of as many tickets as you like for multiple draws.
Can I buy Vermont Lottery tickets online or by mail?
You can only buy Vermont Lottery scratch tickets at retailers. You can buy a subscription to the Vermont Lottery Megabucks, Mega Millions, and PowerBall via mail. No Vermont Lottery tickets may be purchased online.
What is done with the proceeds of the Lottery Vermont ticket sales?
Proceeds from Vermont Lottery tickets' sale are allocated to the state's educational fund and various educational initiatives.
What is my Vermont Lottery code?
All scratch tickets have a unique printed code to validate winning tickets if a Vermont Lottery ticket scanner is out of order.
Got more questions about the Vermont Lottery?