Indiana Lottery Games
| Game | Prize Type | Numbers | Sale Closes |
| --- | --- | --- | --- |
| Daily 3 Midday | Top Prize | 3 from 0-9 | 1:10 p.m. |
| Daily 3 Evening | Top Prize | 3 from 0-9 | 10:39 p.m. |
| Daily 4 Midday | Top Prize | 4 from 0-9 | 1:10 p.m. |
| Daily 4 Evening | Top Prize | 4 from 0-9 | 10:39 p.m. |
| Quick Draw Midday | Jackpot | 10 from 1-80 | 1:10 p.m. |
| Quick Draw Evening | Jackpot | 10 from 1-80 | 10:39 p.m. |
| CA$H 5 | Jackpot | 5 from 1-45 | 10:39 p.m. |
| Hoosier Lotto | Jackpot | 6 from 1-46 | 10:39 p.m. |
| Powerball | Jackpot | 5 from 1-69 + 1 from 1-26 | 9:58 p.m. |
| Mega Millions | Jackpot | 5 from 1-70 + 1 from 1-25 | 10:44 p.m. |
| Cash4Life | Top Prize | 5 from 1-60 + 1 from 1-4 | 8:45 p.m. |
Game Schedule
| Game | Sunday | Monday | Tuesday | Wednesday | Thursday | Friday | Saturday |
| --- | --- | --- | --- | --- | --- | --- | --- |
| Daily 3 Midday | 1:20 p.m. | 1:20 p.m. | 1:20 p.m. | 1:20 p.m. | 1:20 p.m. | 1:20 p.m. | 1:20 p.m. |
| Daily 3 Evening | 11:00 p.m. | 11:00 p.m. | 11:00 p.m. | 11:00 p.m. | 11:00 p.m. | 11:00 p.m. | 11:00 p.m. |
| Daily 4 Midday | 1:20 p.m. | 1:20 p.m. | 1:20 p.m. | 1:20 p.m. | 1:20 p.m. | 1:20 p.m. | 1:20 p.m. |
| Daily 4 Evening | 11:00 p.m. | 11:00 p.m. | 11:00 p.m. | 11:00 p.m. | 11:00 p.m. | 11:00 p.m. | 11:00 p.m. |
| Quick Draw Midday | 1:20 p.m. | 1:20 p.m. | 1:20 p.m. | 1:20 p.m. | 1:20 p.m. | 1:20 p.m. | 1:20 p.m. |
| Quick Draw Evening | 11:00 p.m. | 11:00 p.m. | 11:00 p.m. | 11:00 p.m. | 11:00 p.m. | 11:00 p.m. | 11:00 p.m. |
| CA$H 5 | 11:00 p.m. | 11:00 p.m. | 11:00 p.m. | 11:00 p.m. | 11:00 p.m. | 11:00 p.m. | 11:00 p.m. |
| Hoosier Lotto | | | | 11:00 p.m. | | | 11:00 p.m. |
| Powerball | | | | 11:00 p.m. | | | 11:00 p.m. |
| Mega Millions | | | 11:00 p.m. | | | 11:00 p.m. | |
| Cash4life | 9:00 p.m. | 9:00 p.m. | 9:00 p.m. | 9:00 p.m. | 9:00 p.m. | 9:00 p.m. | 9:00 p.m. |
*All times are displayed in Indiana local time.
Advance Draws
Number of consecutive draws each Indiana State Lottery games allows you to play:
| Game | Advanced Draws |
| --- | --- |
| Daily 3 Midday | up to 28 |
| Daily 3 Evening | up to 28 |
| Daily 4 Midday | up to 28 |
| Daily 4 Evening | up to 28 |
| Quick Draw Midday | up to 28 |
| Quick Draw Evening | up to 28 |
| CA$H 5 | up to 28 |
| Hoosier Lotto | up to 10 |
| Powerball | up to 10 |
| Mega Millions | up to 10 |
| Cash4Life | up to 10 |
Tax Information
Indiana Lottery Federal, and state tax withholdings on winnings for U.S. citizens or residents. 
| Winnings | Tax Category | Percentage |
| --- | --- | --- |
| $1,200 to $5,000 | State Tax | 3.2% |
| $1,200 to $5,000 | Federal Tax | 0.0% |
If the winner is not a U.S. citizen or is not a US resident, Indiana Lottery tax withholdings on winnings are as such:
| Winnings | Tax Category | Percentage |
| --- | --- | --- |
| Over $5,000 | State Tax | 3.2% |
| Over $5,000 | Federal Tax | 24.0% |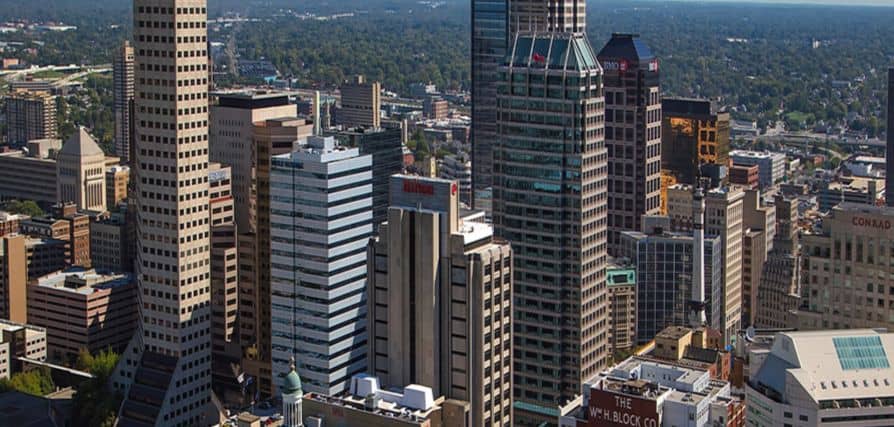 About the Indiana Lottery
The Indiana State Lottery, more commonly known as the Hoosier Lottery, sold the first lottery tickets in October 1989. The mission of the Lottery in 
Indiana is to support the community in a socially responsible manner.
It has had an immense impact on supporting and funding pensions for retired police officers and firefighters, the teachers' retirement fund, and the Lottery Surplus Fund. Since the first Indiana Lottery, $6.0 Billion has benefitted the Hoosier community, $13.9 Billion has been paid out to Indiana Lottery winners, and  $1.5 Billion to authorized retailers.
Corporate Social Responsibility is of utmost importance to the Hoosier Lottery, with employees regularly volunteering to assist and do their part in the communities and sponsorships.
In addition to social responsibility, it seeks to have a positive environmental impact. It backed the research done that investigated the effects of scratch-off and e-instant tickets on the environment.
To save paper, it encourages Hoosiers to use the Indiana Lottery app to create playslips with their selected Indiana Lottery numbers. The app can also be used as an Indiana Lottery ticket scanner, to check Indiana Lottery codes, and to check Indiana Lottery results. Players are also encouraged to save non-winning tickets for Indiana Lottery second chance promos.
Indiana Lottery FAQ
Where Can I Buy Lottery Tickets?
All Indiana Lottery draw tickets, and Indiana Lottery scratch cards must be purchased from any of the authorized retailers by anyone 18 years or older. While you may use the Indiana Lottery app to curate a playslip, you can't play using it.
By law, no tickets may be sold online, through the mail, or via telephone. If anyone tells you otherwise, it's a scam, and you should report them.
What Games Does the Hoosier Lottery Provide?
There are many games available between state and multistate games. The draw games include Indiana Lottery Powerball, Cash 5, Hoosier Lotto, Indiana Lottery Mega Millions, Cash4Life (not to be confused with Indiana Lottery Lucky For Life, which isn't available), Daily 3 and 4, and Quick Draw.
Indiana Lottery scratch-offs are also available from $1 to $50 with various themes and prizes.
The results of the Indiana Lottery drawings are available online or using the Indiana Lottery app.
If you see the Indiana Lottery results or the Indiana Lottery codes and realize you've got the Indiana Lottery winning numbers, sign the back of the ticket straight before claiming your prize. You'll also need to provide proof of ID when redeeming your winnings. And remember that you have 180 days to collect your winnings, so don't wait too long.
Depending on how much you've won, there are different ways to collect. All winnings under $99 999 can be redeemed via mail.
 If it's under $600, the local authorized retailer will pay out the amount. Between $600 and 49,999, you can make an appointment for collection at any of the following three Prize Payment Centers: Indianapolis, Evansville, or Mishawaka.
Prizes over between $50 000 and $99,999 can be collected at the Indianapolis Prize Payment Center, and those greater than $100 000 need to contact the Hoosier Lottery directly for an appointment.
Tab TitleHow Does the Second Chance Indiana Lottery Work?
If you've played and didn't win, hold on to your ticket and create a MyLottery account online or via the Indiana Lottery app. You can enter into various Indiana Lottery second chance promotions that allow you to win with your non-winning ticket.
Ensure to sign the back of the playslip or Indiana Lottery scratch card and keep it safe. Just like the regular lottery games, you need the winning ticket to redeem your prize.
What Are the Benefits of the Hoosier MyLottery Account?
It's recommended that players create a MyLottery account because there are many perks. The primary reason is the chance to have a second chance to win. You also are eligible to enter exclusive promotions and receive a birthday coupon during your birthday month.
Other benefits include alerts when the Indiana Lottery winning numbers are released when a game reaches a significant jackpot, and when new games are released.
Got more questions about the Indiana Lottery?